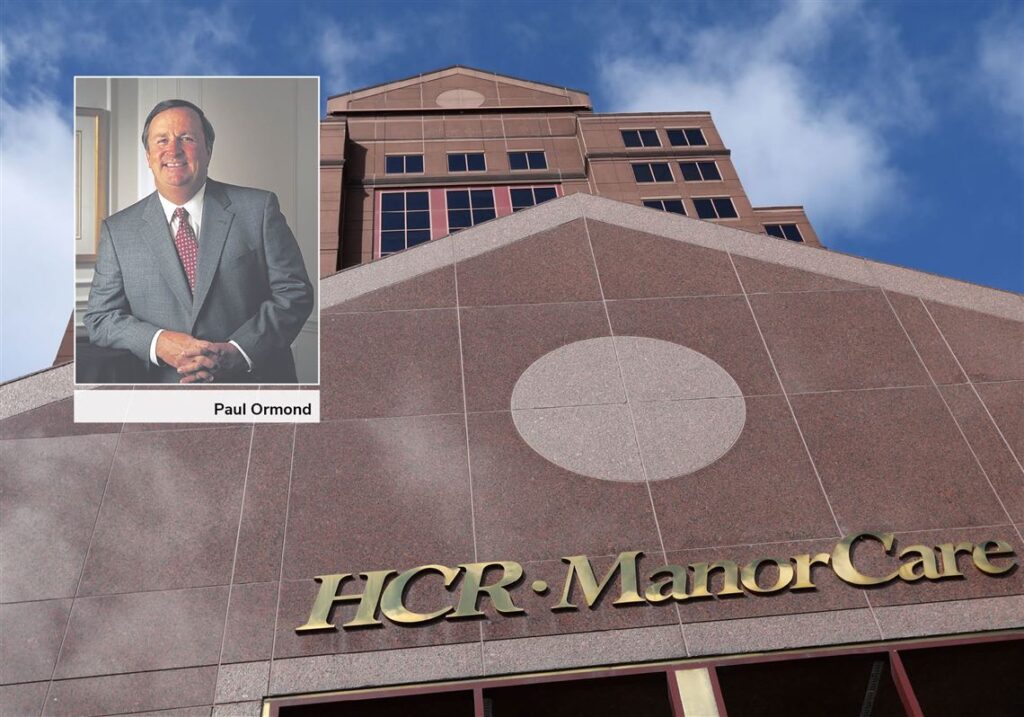 Paul Ormond Managed HCR-ManorCare Into Bankruptcy & Walked Away With $116.7 Million
These days, one of the major problems facing retirees is adequate savings and retirement funds for survival throughout their later years of life. Not a problem for former HCR-ManorCare CEO Paul Ormond. After he managed the third largest nursing home chain into bankruptcy, he was awarded with an astounding golden parachute – ostensibly for retirement benefits.
According to Skilled Nursing News Mr. Ormond, who left ManorCare in September 2017 was, "…owed $116.7 million under the prepackaged bankruptcy plan by which Quality Care Properties, Inc. (NYSE: QCP) will take over the Toledo, Ohio-based skilled nursing provider." (https://skillednursingnews.com/2018/03/manorcares-former-ceo-owed-millions-bankruptcy/.)
The Carlyle Group is one of the biggest and most predatory private equity firms on the planet. It engineered a takeover of HCR-ManorCare in 2007 and the looting began. Property was sold off and leased back by operations. Like all PE takeovers, most of the deal was leveraged with debt loaded on the victim company, i.e, HCR ManorCare.
The CG – HCR-ManorCare saga is a story yet to be fully explicated. It is a project on which we are currently working. It is important that the damage done to skilled nursing by financiers be compiled systematically, organized, and made available to the public.
Workers' Doing The Backbreaking Work Have No Retirement
One salient feature of American free enterprise after the Reagan Revolution was the demise of company provided defined benefits pension programs, i.e. after a set number of years of employment, employees were vested and could count on an annuity from retirement until death. As the economic paradigm shifted toward a radical free market form of capitalism (I use the term capitalism quite loosely here), the responsibility for funding retirement fell on the shoulders of employees through defined contribution programs such as the Roth IRA and 401(k).
The frontline nursing home workers without whose hard work economic rewards for the financiers at the top of the ownership hierarchy would not be possible generally have no retirement benefits. The shift to defined contributions was an excuse for corporations to end defined benefits programs. Consequently, affluent Americans have most of the defined contribution accounts with sufficient funds for a satisfying retirement.
As Monique Morrissey of the Economic Policy Institute stated in her comprehensive report, "The State of American Retirement: How 401(k)s have failed most American workers:" "For many groups—lower-income, black, Hispanic, non-college-educated, and unmarried Americans—the typical working-age family or individual has no savings at all in retirement accounts, and for those that do have savings, the median balances in retirement accounts are very low" (https://www.epi.org/publication/retirement-in-america/).
DID YOU KNOW?
From 1997 to 2005, Federal Reserve Chairman Jerome Powell was a partner at The Carlyle Group, where he founded and led the Industrial Group within the Carlyle U.S. Buyout Fund. From 2005 until he was appointed Chair in 2017, Chairman Powell was involved in finance and service on Bipartisan Policy Committee and the Federal Reserve Board.