By
Dave Kingsley
A Government Funded Service that Requires Heart & Soul has been Turned over to Businesses that have no Heart and no Soul
Corporations in the nursing home industry do what corporations do – they make as much money as they can for their shareholders. Advocates and activists do what caring people do – they fight for patients with heart and soul against corporations that have no heart and no soul. Profit is profit and care is care, and "ne're the twain shall meet."
In this age of little integrity, corporate behavior has little to nothing to do with social responsibility and everything to do with executives' perceived obligations to their investors/shareholders and themselves. In that endeavor, they have no qualms about deceiving the public with misinformation about their finances. A number of times I have attended legislative hearings and listened to lobbyists convince legislators that providers' net income is so low they can barely stay in business.
Providing low quality care and excusing it with a claim of "running on a thin profit margin" is a typical maneuver of long-term care providers. This is a lie and deserves some intense and strong pushback. It is not hard to find evidence to rebut this falsehood. For instance, it is my opinion that The Ensign Group is the biggest owner and operator of nursing homes in the United States. I'm claiming it is the biggest because unlike the other large operators it owns the 270 properties (at latest count) it operates, whereas companies like Brookdale have sold their facilities to Welltower and other REITs (they manage them on a contract basis).
The Ensign Group is doing quite well – even during the COVID pandemic. The table below displays the company's income statement, which includes revenue and net income through the 3rd quarter of 2020 compared to the same period of 2019. Revenue has increased from $1.5 billion during the same period in 2019 to $1.8 billion in 2020. The company's net income (profit) in the third quarter was $43.3 million compared to $27.8 million in the 3rd quarter of 2019. The 2020 year-to-date net income in the 3rd quarter was $125.2 million compared to $84.4 million in 2019.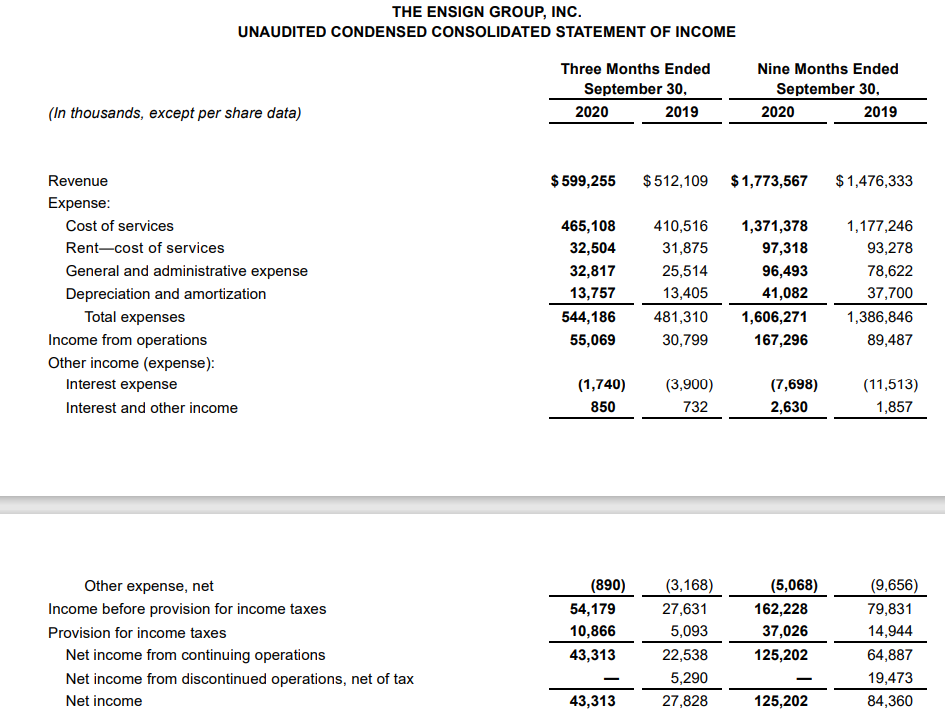 It is important to note that net income on the income statement is after depreciation, amortization, taxes, and interest. Calculating earnings after these expenses isn't the current accepted standard for evaluating corporate performance. Earnings before interest, taxes, depreciation and amortization (EBITA), would be much higher than net income and is a better reflection of the company's financial strength. There is no point in getting into the weeds on this particular point – it is an important point however. Suffice it to say that the financial data we are able to obtain from publicly listed companies suggest that long-term care is an attractive investment.
Senior Housing will be a Vibrant and Appealing Investment Opportunity for at Least the Next Ten Years
The Baby Boom generation began entering retirement age in 2011 and will swell the 65+ population until 2029, when the last year of the 1946 through 1964 birth cohort enters the magic retirement age of 65. Demographers are predicting that the 65+ demographic will reach 80 million. Real estate and finance sectors of the economy have been granted generous tax advantages. Those are the main undertakings of senior housing/long-term care. Furthermore, guaranteed revenue from Medicare and Medicaid and a powerful lobby for keeping regulators at bay or under control will attract investors to this industry.
Don't take my Word For it, Look at the Trade Publications
Although the movement for community and home based care will continue to intensify, demand for skilled nursing will remain high due to an increasing 80+ population and advancing medical technology. In a recent article in Skilled Nursing News (Skilled Nursing Continues to Outpace Senior Living in Near-Term Investment Outlook, January 21, 2020), Alex Spanko wrote the following:
With a combination of strong federal relief and a seemingly safe place in the wider health care continuum, skilled nursing facilities have repeatedly emerged as bright spots in an otherwise hazy financial outlook for players in the senior housing and care sector.

Fitch Ratings on Tuesday added to that trend in awarding a BBB- rating and stable outlook to unsecured notes issued by National Health Investors (NYSE: NHI), a major publicly traded landlord in the space (https://skillednursingnews.com/2021/01/skilled-nursing-continues-to-outpace-senior-living-in-near-term-investment-outlook/).
Publicly listed corporations in the long-term care business will be reporting their 4th quarter and 2020 annual reports in the next few weeks. We will be compiling essential information for all them and posting it on this blog. Combined, these companies own a significant share of the long-term care industry. If their financial statements don't support the "hardship pleas" of their lobbyists, then advocates need to ask for evidence of their claims.