By:
Dave Kingsley
The Ensign Group's $10.82 per Hour CNA Labor in Brownsville, Texas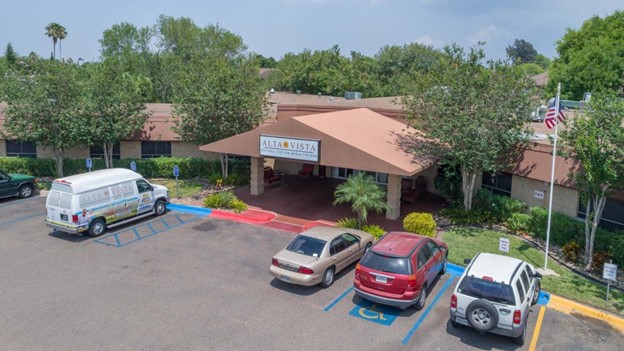 The Alta Vista Rehabilitation & Healthcare Center pictured above is owned and operated by The Ensign Group – the largest (and rapidly expanding) American nursing home chain. This facility came to the attention of those of us working on a study of The Ensign Group (hereinafter referred to as Ensign) by The Center for Healthcare Information and Policy – a recently incorporated 501(C)(3) nonprofit dedicated to healthcare research.
In collecting data on Ensign's 2021 cost reports, we noticed that base CNA wages for this facility were excessively low at $10.82 per hour. Typically, 2021 CNA base wages (hourly wage excluding fringe benefits) average approximately $17.00 per hour with $13.00 at the very low end of the distribution.
Brownsville is in the Rio Grande Valley of Texas, connected by a bridge across the Rio Grande River to Matamoros, Mexico. The North American Free Trade Agreement liberalized the process of obtaining a work permit in the U.S. for Mexican citizens. Therefore, residents of Matamoros cross the bridge every day to work in Brownsville, Harlingen, and other Texas cities on the border. The minimum wage in Mexico is approximately 50 cents (U.S.) per hour.
Workers earn about $2.00 U.S. in the auto Maquiladora plants on the Mexican side of the border. Therefore, a wage of nearly $11 per hour is very attractive to Mexican citizens attempting to care for themselves and their families. It is in the best interests of the Mexican workers and the nursing home industry to garner CNA training and work permits for the border workforce. My interviews with workers in the U.S. nursing home system suggest that the Mexican culture and respect for elders lend themselves to a very capable and excellent immigrant workforce from Mexico.
However, the abject poverty of Mexico is an opportunity for exploitation of workers by the nursing home industry. It is important for U.S. legislators and regulators to take a serious look at this problem.
Why is Ensign Paying their Brownsville Workers Excessively Low Wages?
Why is Ensign Paying their workers less than a living U.S. wage? Because they can. Because the nursing home industry is financialized, protection and enhancement of shareholder value is the industry's moral and ethical summum bonum – the highest and guiding ethical value of the corporate culture.
Although the Brownsville facility netted $2,298,733 operating income on net patient revenue of $8,847,305 (26% net after expenses for interest, taxes, and depreciation), employees did not share in that financial success. The company expended $1,573,153 on nursing care. If they had increased that by 50%, their net would have been reduced to 17% – which would thrill the owners of any enterprise. The facility also reported nearly a million dollar allocation to the Ensign home office and related parties. Furthermore, we usually note that CNA hours comprise around 60% of total nursing hours. At Alta Vista, 91,889 hours of the total 112,566 nursing hours were allocated to CNAs – 82%.
The labor mark up on the more than impressive earnings from this facility by a $3+ billion C corporation benefits investors but is not shared with workers. In other words, the labor market is determinative of wage rates while a price for the service is set by state governments at a level guaranteeing a robust return to shareholders and high executive pay.
The financial structures of corporations operating in the nursing home space are not a major factor in wages, hours, working conditions and staffing. Corporate type, e.g., REITs, private equity firms, C corporations, limited partnerships, LLCs, or any other type of corporation will not drive wages and staffing in this industry. Rather, an attitude toward labor and the perception of the value and worth of people doing the hands on work with patients needing skillful and empathetic care are the deciding factors in how we pay our care givers in nursing homes.
As long as the industry can use its political power to exploit workers, it will. It is ironic that nursing home reform commissions and congressional hearings have ignored the plight of workers while extensively noodling with the industry over ever more complicated billing systems. The industry will find plenty of techniques for leveraging billing systems to their advantage. What they won't do is invest in a loyal, experienced, and trained workforce.